Anne CC Lee, Lian Folger, Lauren Schaeffer, Pratik Panchal, Hannah Blencowe, Joy E Lawn
Nov 17, 2017 is World Prematurity Day. The authors publication on diagnostic accuracy in neonatal assessment was released today in Pediatrics.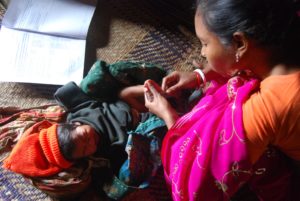 On World Prematurity Day, findings from a new study will be published in the journal Pediatrics.1 This systematic review examines the accuracy of different newborn assessments to determine gestational age and identify preterm babies.
WHY THE EARLY IDENTIFICATION OF PRETERM BABIES IS IMPORTANT
Each year, 15 million babies are estimated to be born preterm (before 37 completed weeks gestation), with the vast majority born in low- and middle-income countries (LMICs).2 Preterm birth complications are the leading cause of under-5 child mortality globally3—accounting for 1 million neonatal deaths each year.4
Preterm babies are more likely to die in infancy or become ill with conditions that could be effectively treated if identified early, such as breathing problems, infections, or low body temperature.   The early identification of preterm babies enables health workers to offer these babies special care, including better monitoring and the timely delivery of potentially life-saving interventions, such as continuous positive airway pressure or kangaroo mother care. Furthermore, accurate determination of gestational age is needed to identify growth-restricted infants, who also carry increased risk of mortality and morbidity in infancy and beyond.
In order to save lives of premature and growth-restricted infants in LMICs, these high-risk infants need to be accurately identified as early as possible and targeted for interventions.
Continue reading "Better Counting Preterm Babies: BWH authors' new review examines what works, and what's next globally" →